THE ART OF CREATIVE RESILIENCE
THE ART OF CREATIVE RESILIENCE is the conviction that artists and event professionals have the ability to be leaders and responders for their entire communities in times of crisis when suitably prepared. It recognizes that the same skills required to produce safe, accessible, sustainable live events are transferable to contexts requiring any combination of the development of temporary infrastructure, management of large groups of people, and support of community mental health and wellness.Our nation's emergency response agencies have already identified the advantages of a "whole community approach" to preparedness that involves our arts and cultural workers. This reduces bottlenecks in the event of widespread disaster and increases the level of trust, local knowledge, and cross-cultural communications that are included in planning and response.The potential impact of redeploying our creative sectors in support of community response and recovery, rather than shuttering their operations in times of emergency, is enormous. Pre-pandemic, arts and cultural production accounted for over $804 billion (4.3 percent) of the U.S. economy, an impact larger than the transportation, tourism, or agriculture sectors.Now is the time for communities to proactively identify their needs, risks, and latent capabilities to lay the groundwork for a resilient future. Now is the time for governments to meaningfully invest in recovery and future resilience for our creative workers and organizations, including by creating new ecosystems of jobs, certifications, training, and service models that leverage the value they are capable of providing to their entire communities when suitably prepared.
Take the survey
Are you a current or aspiring arts or event worker, venue, organization, or small business? Take the 5-minute survey to demonstrate the value that creative industries can contribute to communities. Show our leaders that now is the time for meaningful investment in the future of our creative workers and organizations.
Please fill out both surveys if both apply!
About Us
THE ART OF CREATIVE RESILIENCE is a concept coined by Majestic Collaborations, who also created this website. Our organization provides leadership expertise in arts resilience work, grant administration, and training that prioritizes sustainability, safety, community engagement, and accessibility. Our work has been highlighted in international publications to model creativity and the role of creatives in all phases of resilience. We are viewed as a leader in the national arts preparedness community, including through our experiential learning program The Art of Mass Gatherings. In collaboration with Performing Arts Readiness, we have developed various curricula presented in onsite workshops and online webinars about festival safety, event modifications and virtualizations, and related topics.Performing Arts Readiness (PAR) is a nationally recognized and respected non-profit initiative with experience managing and distributing grants to performing arts organizations to help them learn how to protect their assets, sustain operations, and be prepared for emergencies. PAR's work brings together knowledge of the performing arts and expertise in both emergency preparedness and cultural heritage to conduct community outreach and engagement and to develop informational resources for arts organizations.We're also grateful to the following aligned and allied organizations alongside whom we work and continue to develop these ideas: the National Coalition for Arts Preparedness and Emergency Response (NCAPER), the Event Safety Alliance, the Arts & Cultural Network for Emergency Preparedness, Warm Cookies of the Revolution, and many others.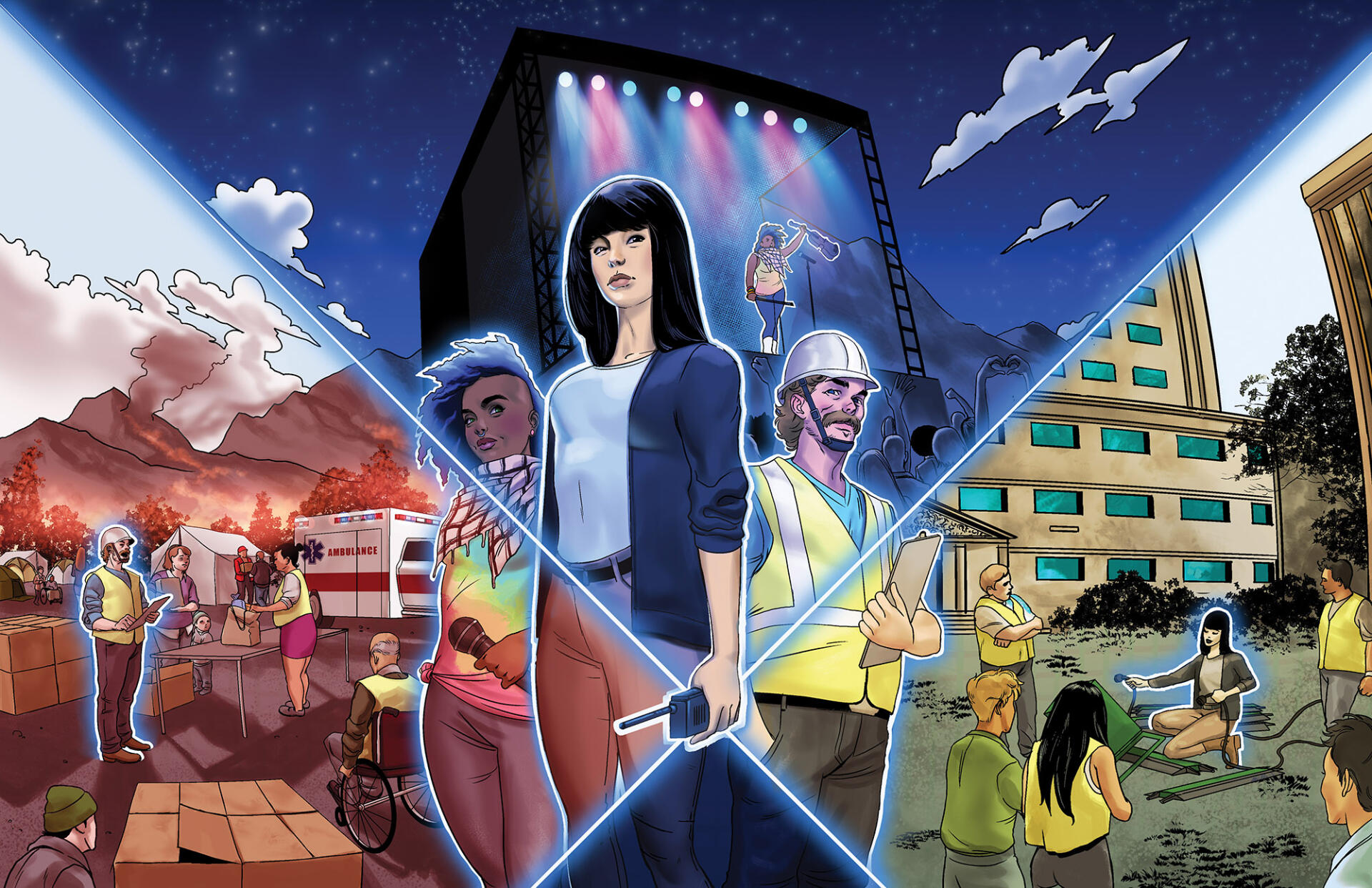 Why arts & event workers
Artists have long leapt into the role of first responders for their communities in times of crisis. Here's why we believe in creating mechanisms for them to support broader community resilience initiatives through THE ART OF CREATIVE RESILIENCE.
They already possess skills, resources, and communications networks useful for intersectional work in community emergency response and resilience.

Emergency response agencies like FEMA already value arts and cultural workers as natural partners for equitable community-driven emergency response. See the FEMA "National Disaster Recovery Framework" or "Guide to Expanding Mitigation: Making the Connection with Arts & Culture" for more.

Performing arts events and live entertainment shape culture. Events build community and catalyze social transformation, making them important vectors for societal change.

Current practices often position arts and event professionals among the most economically vulnerable to disruption. Alternative revenue streams for this major workforce would permit them to continue to practice and increase their event production skills and expand their professional network, even in times of closure.

They're ready and willing to contribute to recovery and relief efforts. 83% of creative workers nationally say they are ready today to put their creative practice to use as part of pandemic recovery and 60% would like to support national recovery even by doing non-creative work, according to a survey by Americans for the Arts.
Are you one of them?
Help advocate for the creation of opportunities that leverage the value our creative industries can contribute to entire communities by filling out the survey that best matches your role:
The artwork pictured above was created by Denver-based artist Dion Harris for Majestic Collaborations and depicts the dual roles as event producers on "sunny days" and community responders in times of emergency proposed by the Art of Creative Resilience concept.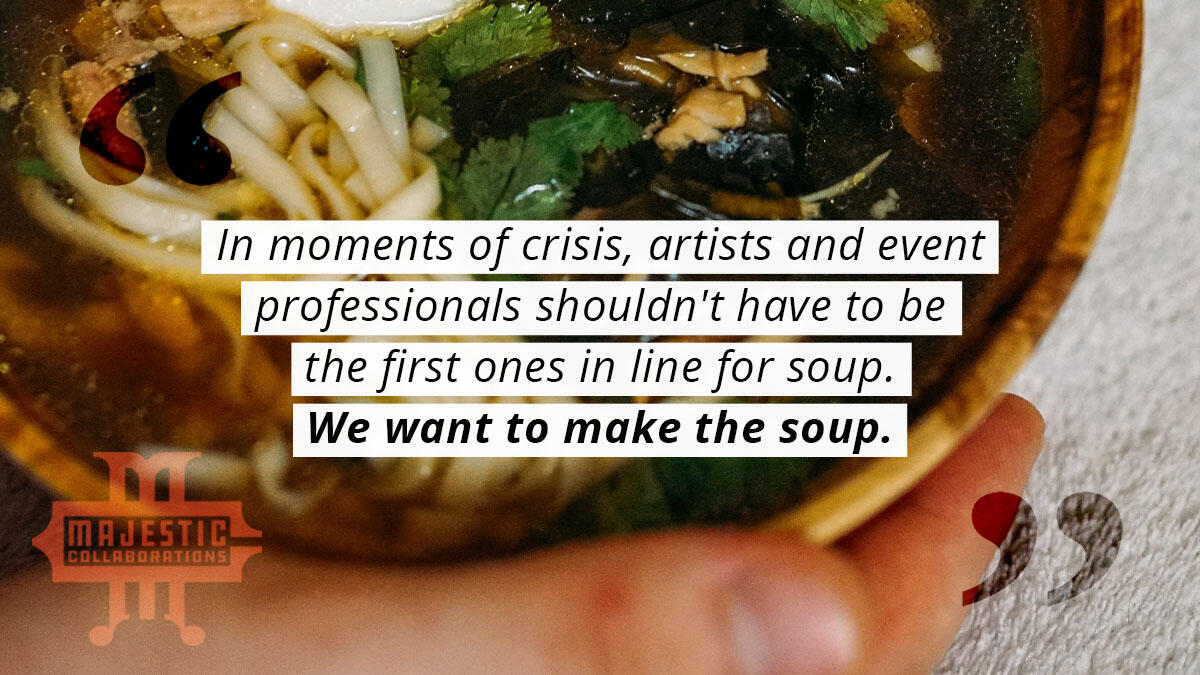 Envisioning a creative resilience ecosystem
What would a future look like where arts, culture, and event workers were active leaders in their community's resilience and emergency response work? Imagine if triage centers, pop-up community classrooms, shelter facilities, and safe outdoor service sites were designed with the same attentive care to design, crowd flow, emotional support, and resourceful adaptation that our arts and event workers bring daily to their jobs in the arts and entertainment.Performing arts and live entertainment events are already catalysts for social transformation and community-building. What would events look like with this level of equity, accessibility, and sustainability conscientiously placed at the center? What would our cities and towns then become, with these values built into the heart of each audience experience?This is part of the future that we envision. It is a future that creates stable and flexible alternative revenue streams for arts and event workers and small businesses, reducing the economic vulnerability of existing industry professionals and increasing the breadth and diversity of people for whom professional involvement in the arts becomes a feasible career consideration. It also strengthens capacity for equitable and community-driven disaster mitigation and response efforts.
What would we need to bring this vision to life? We've identified a few key areas where investment is needed to build a robust creative resilience ecosystem:
Training and certification programs for industry professionals, youth, and workers in other industries to gain event production and/or intersectional emergency preparedness skills.

Flexible job opportunities for arts and events workers to use their creative resilience skills to improve the safety, accessibility, sustainability, and equity of community services. In addition to supporting existing arts and events workers, the creation of stable alternative revenue streams in the industry also increases the breadth and diversity of the populations for whom professional involvement in the arts becomes a feasible career consideration, a critical element when it comes to expanding equitable participation within the arts.

Funding and training for infrastructure development for venues, festivals, arts organizations, and small businesses to enhance the safety, accessibility, and sustainability of their sites and programming and equip them for multi-functional use as community resilience hubs.

New evaluation metrics, surveys, and reports that center creative resilience as a community value, thus ensuring ongoing efforts to prioritize this work
If you're an arts or event professional, help lay the groundwork for this future by telling us what kinds of opportunities would benefit your practice in our 5-minute survey. Fill out the survey that best matches your role (you can fill out both if both apply):
These recommendations are based on our organizations' past experience producing experiential training for event workers and facilitating the development of arts-based emergency networks, including the Arts & Cultural Network for Emergency Preparedness in collaboration with Denver Arts & Venues and Colorado Creative Industries, as well as from the existing work of other allied organizations. Learn more about existing and proposed programs that advance the Art of Creative Resilience.
The art of creative resilience today
Our vision for a future where our communities are transformatively shaped by THE ART OF CREATIVE RESILIENCE is rooted in the seeds of existing practices. Here are a few of the current and proposed programs aligned at the intersections of arts and event production, preparedness and resilience, and community vibrancy:
"The Cultural Placekeeping Guide" produced by CERF+ and South Arts for the National Coalition for Arts' Preparedness and Emergency Response (NCAPER) guides arts organizations through the process of creating an emergency action network

The Arts & Cultural Network for Emergency Preparedness (ACNEP) is a regional network "to prepare people to produce extraordinary events by embracing the full complexity of a gathering." It is an initiative of Denver Arts & Venues and Colorado Creative Industries made possible thanks to a grant from Performing Arts Readiness and the support of Majestic Collaborations as circuit rider.

The Music Cities project by Sound Diplomacy conducts tailored evaluations and analysis of music and night-time economies to help cities better leverage their music economies to create more inclusive, prosperous music communities

The Crisis Analysis & Mitigation coach training program by the National Coalition for Arts Preparedness and Emergency Response (NCAPER) and the Air Institute is a remote learning program to train arts administrators in disaster mitigation and planning

Art-Train is a 3-hour workshop and technical assistance program from Springboard for the Arts to support artists and arts organizations in accessing ARPA funds to recover, rebuild, and reimagine more equitable systems.

The Art of Mass Gatherings is an experiential learning program by Majestic Collaborations that uses festivals as classrooms for arts and events workers to learn skills intersectional to event and emergency response

The Event Safety Alliance regularly provides training, programming, and networking events related to the intersections of event preparedness and emergency response

The City of Vancouver, Canada has been doing great work in creative and integrative resilience planning, including hosting a Creative Lab in June 2019 to share new knowledge and approaches to disaster resilience through the arts (view the video documentation)

The Urban Sustainability Directors Network's Resilience Hub initiative is one of a handful of grassroots organizations across the nation working to equip sites in a diversity of communities to become resilience hubs through infrastructure design and informal leadership training.

A number of cities, including Los Angeles, Seattle, Chicago, and New York, have developed community resilience corps that activate residents to provide needed community services
We have also proposed our own program to various local and state governments in service of this vision. Learn more here or contact us if you'd like to bring this program to your region.Are you working on an aligned project that isn't on this list? Let us know! You can also sign up for updates about the Art of Creative Resilience.
Thank You
We're excited to meet you! We're a small team but you can expect a reply within 1-3 days. You can also give our co-founder Matt Kowal a call at (303) 257-4747 for anything urgent!